Issue, simplify the complex.
In the launch stage, facing massive channels, communication, SDK docking and package management often take time and effort. UltraSDK integrates the login, payment and purchase amount attribution functions necessary for mobile game launch into one SDK, allowing you to focus on game development.
Converged channel SDK

Apple, Huawei, OPPO, Vivo, Xiaomi and other 100+ strictly select high-quality channels.
View all>

进一步了解 >

Release SDK

Including domestic and overseas versions, free configuration of users and payment system.

进一步了解 >

Convergence of payment channels

Google, Apple, wechat, Alipay, third-party gold flow and other domestic and overseas channels.

进一步了解 >
Access, extremely simple.
The extreme efficiency means the extreme simplicity, while the SDK does not update, no repeated access, all efforts for your efficiency.
The engine layer connects to the SDK.

Support unity, UE4

进一步了解 >

One access, universal

After 1 time SDK can be sent to both domestic and overseas.

进一步了解 >

You only need to set two parameter

Only two parameter is required for the code layer to avoid repeated code modifications.

进一步了解 >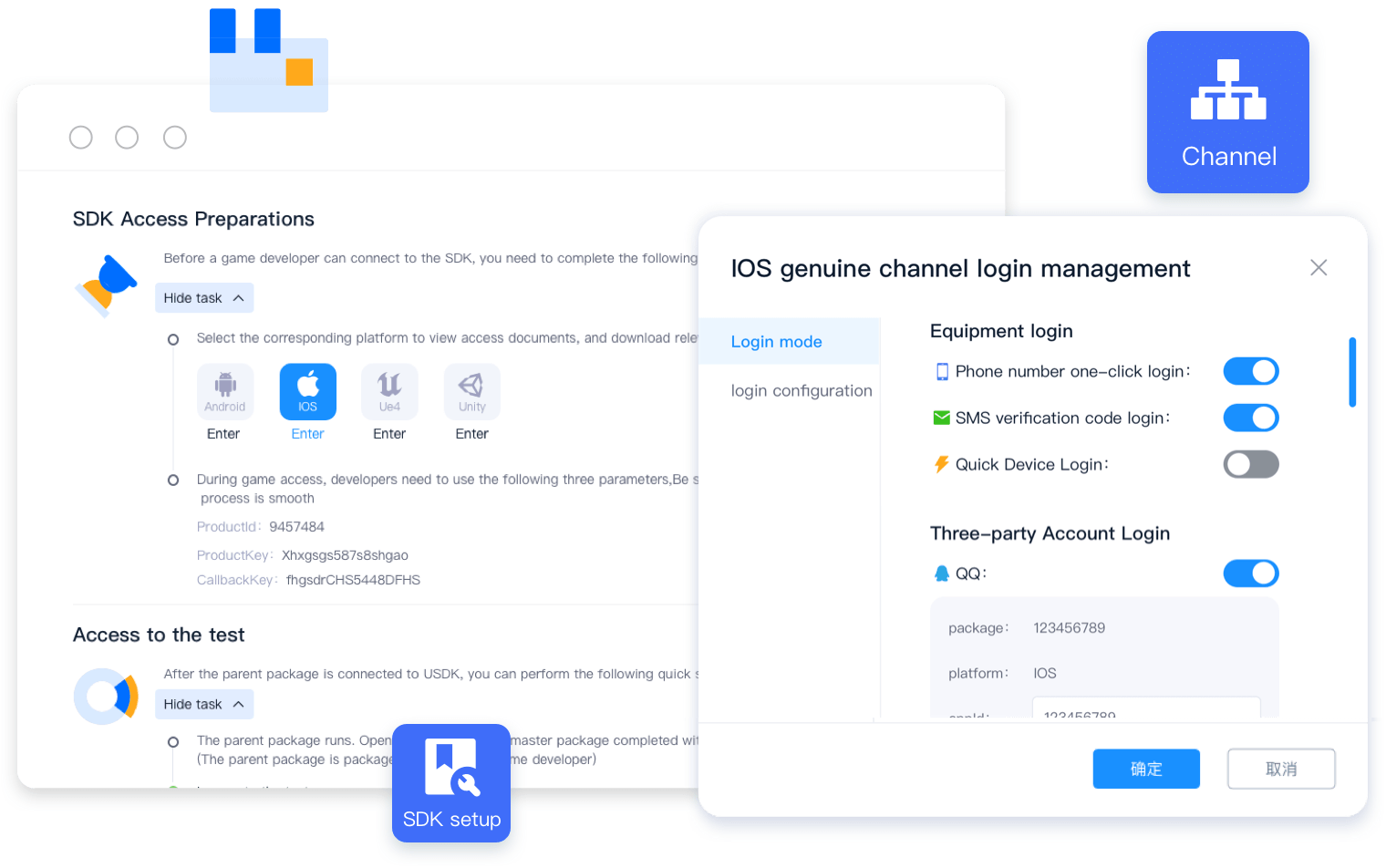 Operation, progress in stability.
Security is the foundation of our products, and our services are guaranteed through various mechanisms such as remote DISASTER recovery and service separation.
Powerful data analysis module provides real-time payment, user behavior, advertising attribution and other comprehensive data, to help you learn the operation situation in the first time, adjust the strategy.
Choose the right product for you
After 5 years of grinding, the RESEARCH and development team has made a lot of breakthroughs at the bottom, which not only improves user efficiency, but also provides convenient and flexible access configuration. We have launched the following three customized products according to different release and promotion strategies of users. If you have any questions, welcome to consult!
Immediately consult
They're all using it
Access UltraSDK now!